Jimmy Carter remained cool long after leaving the White House
At 96, Jimmy Carter is America's oldest living president ever, and an interest in him was ignited at the start of 2021 after "Jimmy Carter: Rock and Roll President," an engaging documentary aired on CNN on January 3, just days after he made headlines when he and his First Lady Rosalynn were caught on camera sharing a New Year's smooch at the annual "peanut drop" in his hometown of Plains, Georgia.
Someone pointed out on Quora that Jimmy Carter is perhaps "the coolest US president".
He has spent the past decade working to eradicate Guinea Worm Disease, through his charity The Carter Foundation.
What is Guinea Worm Disease?
Guinea Worm Disease is a terrible parasite that eats human flesh, that causes death, disability, and mass poverty.
Or at least, it used to. Thanks to Jimmy Carter, the disease is close to being permanently eradicated around the globe.
Not only that, but despite being 96 years old, Jimmy Carter still works tirelessly with Habitat for Humanity.
Despite having a horrible fall and nearly dying a few years ago, Jimmy still gives his precious few years left to build houses for the impoverished.
In fact, Jimmy and his wife helped build over 5,000 homes for the poorest of the poor around the world, wrote Gianni Giovanna, a Christian LGBTQ advocate on Quora.
"And guess what else impressed me?", continued Giovanna, "when the Southern Baptist Convention, of which Jimmy was a member, ruled that "women were not allowed to be pastors", guess what Jimmy, who is deeply Christian did? He sent them all letters, resigning from the Southern Baptist Convention. Jimmy is a deeply Christian man. But he stood up for his fellow woman and put his foot down when church leaders pulled the sexist card".
This Christian LGBTQ advocate noted that the most wholesome thing about Jimmy Carter is that he teaches Sunday School.
"Yep. That's right. The same man who used to be the most powerful man in the world teaches toddlers that "Jesus loves them" every week", adds Giovanna, pointing out that Carter didn't retire from being President to live a life of champagne and caviar.
In fact, Carter still lives in his old, run-down, $150,000 house.
He could have become a millionaire writing books, and giving speeches like Bill Clinton, but instead, Jimmy said "money was never very important to me."
Instead of becoming a multi-millionaire, Jimmy decided to put his time and money towards helping others.
In the meantime, journalist Tod Perry wrote an article on Upworthy.com reminding us that Carter built a solar farm in his hometown and it now powers half of the entire city.
In 2017, Carter leased ten acres of land near his home in Plains, Georgia, to be used as a solar farm with 3,852 panels. Three years after going live, Carter's solar farm now provides 50% of the small town's electricity needs, generating 1.3 MW of power per year. That's the equivalent of burning about 3,600 tons of coal.
Carter was way ahead of his time when it comes to solar power.
He put solar panels on the White House in 1979. The 32-panel system was designed to heat water throughout the presidential residence.
Unfortunately, Ronald Reagan, who was no fan of alternative energy took the panels down from the White House when he took office a few years later.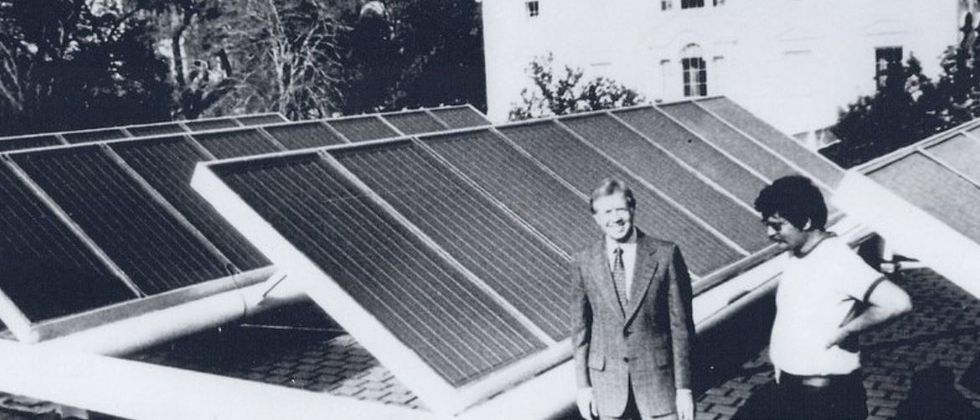 When writing a review about the newly aired documentary "Jimmy Carter: Rock and Roll President," Julian Zelizer, political analyst for CNN pointed out that throughout Carter's political journey, some of the hippest musicians of the time kept flocking to support him.
"The reason is that in his prime, Jimmy Carter was cool. He championed a kind of political populism that was extremely attractive to Americans disillusioned with Washington in the wake of Vietnam and Watergate. Sick and tired of elected officials who betrayed them, they found a refreshing change in Carter, a former peanut farmer who was seen as an anti-establishment outsider", wrote Zelizer, forgetting that many think Carter remained cool even after he left the White House.